Our Executive Board consists of students nominated and elected annually by the members of our organization for the positions of Chairman, Vice Chairman, Secretary, Treasurer, and Director of Promotion and Recruitment. Additional positions are appointments made at the discretion of the Chairman.
CHAIRMAN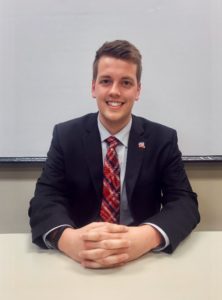 Korbin Keller
Korbin Keller is a junior at Truman State University as a Political Science Major and a Business Administration minor. In addition to College Republicans, he is a part of the Leadership Scholars Program and the Funds Allotment Council. In the past, he has worked on campaigns reaching across all levels of government, including campaigns for Senator Roy Blunt, Governor Eric Greitens, and State Representative Nate Walker. Korbin has also participated as a delegate from Adair County to the 2016 State Republican Convention. Korbin plans on attending law school in order to attain a J.D. and to practice law for the public sector: be it in government, for a non-profit, or another cause. He is honored to serve as Chair for the 2017-2018 Academic year, and seeks to empower every college conservative on campus.
VICE CHAIRMAN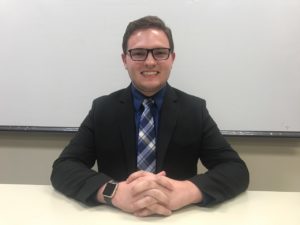 Alex Kelley
Alex Kelley is a junior at Truman State University as a Political Science Major, a Business Administration Minor, and a German Minor. He also is the current Brotherhood and Service Coordinator of Delta Phi Alpha. He is the second youngest child of five, and works for his parents during the summer and whenever he is home throughout the semester at their restaurant. His interests, other than advancing the conservative agenda, would be sketching in his free time and talking about anything related to technology. Alex plans to attend graduate school to earn his Masters in Business Administration and to pursue a career in corporate business in Silicon Valley.
SECRETARY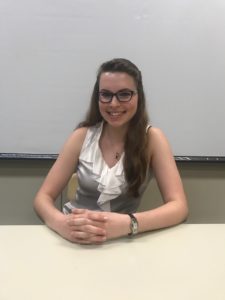 Rachael Newton
Rachael Newton is the current Secretary of the College Republicans at Truman State University.  Rachael is working towards a degree in Biological Sciences with a minor in Chemistry and German Language in preparation for Medical School.  Outside of College Republicans, she is involved in the Marching Statesmen Band, Delta Phi Alpha (German Honors Fraternity) and performs independent research with Dr. Joyce E. Patrick in the field of Microbiology including research into these areas and for these projects that would be awesome if they could be listed!.  After graduating from Truman State, Rachael hopes to attend MU Medical School and eventually serve as a physician in rural Missouri. She has always been interested in politics and is excited to have the opportunity to contribute to the 2017 chapter of College Republicans at Truman State University.
TREASURER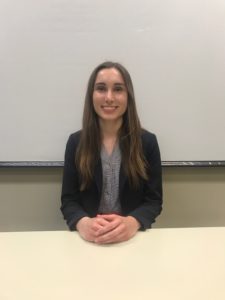 Annorah Harris
Annorah Harris is a senior double majoring in Business Administration and Economics. She is a Truman Leadership Scholar and a member of Alpha Kappa Psi (business fraternity), Alpha Gamma Delta (sorority), and Beta Gamma Sigma (honors fraternity). Following graduation from Truman, Annorah plans to attend law school and subsequently practice business law.
DIRECTOR OF PROMOTION AND RECRUITMENT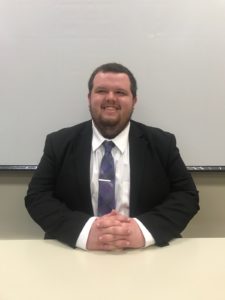 Kevin Fortner 
Kevin Fortner is a junior Philosophy and Religion major with an undeclared minor at Truman State University. Kevin has put in work for the Senator Roy Blunt campaign, the Governor Eric Greitens campaign, and for the Adair County Republicans as well. Kevin spends a lot of his free time volunteering with the College Republicans or playing video games at home with his friends. Even from a young age, Kevin knew he wanted to work in bureaucracy, and he believes that working with the College Republicans, on top of being a great honor, would be a great way to get his foot in the door for a lifetime of public service, and probably red tape.
EXECUTIVE DIRECTOR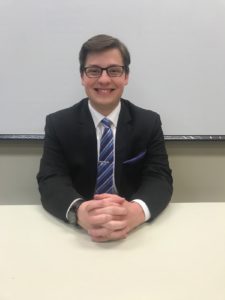 Shane Bilka
Shane Bilka is a junior Political Science Major at Truman State University. He is currently on the executive board of two organizations: College Republicans (as executive director), and the Political Science Students Association (as the PR chair), while having previously served on the executive board of these two organizations as Secretary-Treasurer (PSSA) and alternatively as Secretary (College Republicans). Outside of his leadership roles, Shane has also been an active member of the Truman State Sharpshooters club. He has experience as a volunteer for conservative causes and campaigns, as he has worked for Roy Blunt for US Senate, Eric Greitens for governor, Marco Rubio for president, and Daniel Bogel for state representative, while also having volunteered at an Iowa caucus site during the 2016 presidential primary on behalf of the Iowa Republican Party. Shane looks forward to not only pushing the conservative agenda on campus, but also having an enjoyable academic year with his fellow College Republicans.
OUTREACH COORDINATOR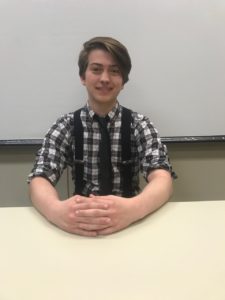 Isaac Hampton
Isaac Hampton is a sophomore Business Administration and Economics double major at Truman State University. As Outreach Coordinator for the Truman State College Republicans, he is in charge of "Across the Aisle", Truman's radio station KTRM 88.7. Across the Aisle is a political talk show where students from all across the political spectrum discuss the weekly news; it airs on Saturdays from 5pm-6pm. When Isaac is not spreading his "hateful", "vitriolic" message of free markets, limited government, and conservatism on the airwaves or at Truman State, you will find him participating and enjoying a variety of activities. He is a man that will not have his entire persona boiled down to a measly paragraph, for his story spans volumes.       
FACULTY ADVISOR
Dr. Steve Smith 
Dr. Smith became the Faculty Advisor for the Truman College Republicans in January of 2017 and also is the Faculty Advisor for Truman's Mock Trial team.  He has been at Truman since 1986.   He has a B.A. in Economics from Eastern Illinois University, has completed the course work for a Master's degree in Economics at Auburn University, and holds a law degree (J.D.) from the University of Texas at Austin.    He teaches the History of Economic Thought, American Economic History, the Legal Environment of Business, and a JINS course called Historic Trials.   He is a member of the State Bars of Missouri and Texas and has presented papers at professional conferences on the work of economists Friedrich Hayek and James Buchanan, as well as on various legal topics.    His special interests are Economic History, the History of Economics, and the Austrian School of Economics.   He once shook the hand of Ronald Reagan and aspires to shaking the hand of Ann Coulter.  Students of all persuasions are welcome to drop by his office to discuss politics, economics, and history.