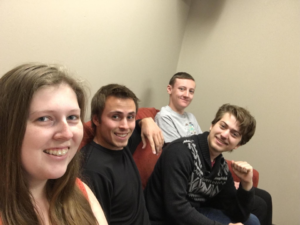 (Hillary Albert, Erik Deetz, Joshua Glor, Isaac Hampton)
Across the Aisle is a radio show started by the College Republicans with the College Democrats. It is hosted by the Outreach Coordinator of the College Republicans Isaac Hampton, as well the Campaign Outreach Coordinator and Chairman of the College Democrats. The purpose of this show is to educate and offer different perspectives on current day issues. In addition to education and debate, we also seek to inform citizens on what is going on in their communities. To accomplish this goal, we invite legislators and officials to come on the program and give updates.
Across the Aisle airs Saturdays at 11am on 88.7 The Edge or you can live stream here.
We also have podcasts available from our previous shows here.